View Stream
8 days ago
By: Deb Squires & Doug Nebel
Principal Squires
Congratulations to Ms. Squires who officially took over as the principal for The View on August 1.
Amazon Smile
If you happen to do some shopping on Amazon, please consider choosing Sky View for your Amazon Smile donation. Just look for "Skyview Middle School Parent Teacher Organization". Thank you in advance for your support!
LEAP- Next Grade Level
For all students who were enrolled at Sky View and in LEAP classes in 6th and 7th grade, these students are automatically enrolled in the same LEAP classes for the 18-19 school year. For 5th grade students entering Sky View, data and recommendations are being reviewed currently. Families will receive notification through email and regular mail during the week of July 23rd.
Foreign Language- Grade 6 to 7
We are completing our review of students to see who will be taking a Foreign Language in Grade 7. Student data and teacher recommendations are considered. If your child is selected for a foreign language, you will receive a form through email and regular mail.
Foreign Language- Grade 7 to 8
For all students who took Foreign Language in 7th Grade, you will be automatically taking Foreign Language in 8th Grade. If you have any questions, please contact the main office.
Summer Reading
The Summer Reading info can be found in two places. At the SV website, go SVMS Info and then Learning and you will see the box for Summer Reading 2018. You can also find the link at the district web page. The menu is in the blue header bar.
Summer Band
There is a 2 week band enrichment program this summer. Check the front page of our website out for more details.
Report Cards?
If your child did not bring their report card home, please give us a ring and we will get you a copy.
Graduation Updates
If you look under SVMS Info on the school website, you will notice a graduation cap icon. Click there for the "latest and greatest" regarding 8th grade end of the year activities.
7th Grade Families
7th Grade Families. We are looking for some more volunteers to help us with the 8th grade BBQ on Wednesday June 20. Please contact the main office and "Pay it Forward" for this year's Grade 8 class. Thanks!
Student Council Car Wash
On Friday, June 14, out Student Council will be washing teachers' car as a token of their appreciation. The car wash will be between noon and 3:30. If you are driving up the hill on Friday to pick up your child and want your car washed, I bet the student council would wash your car as well for a donation of $5. :)
Outdoor Dining at The View
We already have kids asking to eat outside again so we may try that again in the future. We did a mini plumbing lesson with the kids and explained if you had a drainage issue under your kitchen sink, there would be a less than pleasant smell coming from the pipes. The kids understand, enjoyed the experience as much as possible, and are enjoying the rest of their day. Thanks for your patience!
ALICE Student Drill
On Friday, June 1, we will be conducting our first ALICE student drill. A letter is being emailed to all families regarding the drill. A copy is available on our school website and calendar. Please contact the school with any questions or concerns you may have.
CTEi Summer Camp for Grade 8
For our current 8th graders (2022), there is a great opportunity at CTEi. Check out the Summer Camp info posted on our school website and school calendar. Please contact us with any questions.
Summer Programming at Sky View?
New to Sky View for 2018, there will be a 21st Century program weekly, Monday through Thursday. Please check out our website and school calendar for details. You can also contact the main office or email the on site coordinator directly. The director is Rita DeOliveria (rita.deoliveira@leominster.mec,edu).
Junior Police Academy
During student lunches, Officer Bouchard has spoke about the Junior Police Academy. This is open to current 6th (2024) and 7th (2023) graders. More information is available on our school website and school calendar.
Math MAP Testing
Now that regularly scheduled MCAS is complete, teams will be completing end of the year MAP testing. Each team of teachers will be testing on different days with the goal of completing testing by the end of May.
Baseball & Softball Game vs. Quabbin Cancelled
There is no game Tuesday, May 22.
Baseball & Softball Game vs. Narraganset Cancelled
There is no game Thursday, May 17.
Softball Practice Tuesday, May 15
Practice is cancelled today. Team members should head home on the bus.
Student Progress Reports
We are planning on printing Progress Reports on Wednesday May 16 instead of Monday May 14. We apologize in advance for the delay.
Bus #34 Friday, May 11
Bus #34 will be at least 30 minutes late on Friday May 11. Student will be notified at 1:10 and allowed to contact home as well. Sorry for the delay.
Bus Evacuation Drills
The next Bus Evacuation Drill will be this Wednesday, May 9, upon bus arrival at Sky View. All students will be required to exit the bus through the rear emergency door, under supervision of drivers and safety representatives from First Student. Students are required to sit on the floor at the back of the bus and "scooch" their way out, so please dress accordingly!
Bus #34 Friday, May 4
Bus #34 will be at least 30 minutes late on Friday May 4. Students were notified at 2:00 and parents will be emailed as well. Sorry for the delay.
Math MCAS
Math MCAS will being during the week of May 7th. Students will take a practice test (more like a review of how to take the math test) in their own classrooms. As usual, if your child has an appointment during testing, please contact the school so we can work together regarding your child's schedule.
Spring Pictures
Monday, April 30 is spring picture day. In the spring, only students who are paying for pictures will have their pictures taken.
Baseball & Softball Games vs Quabbin 4/26
Both games in Quabbin are cancelled due to weather.
Thank you!
We raised $950 for the Jimmy Fund on behalf of Team HEALS and Tommy Joffrion. Some pics of the event will be on our school's Twitter and Instagram pages. Please check them out.
Bus 31B Mechanical Difficulties
April 10 - Upon leaving Sky View this afternoon, Bus 31B experienced mechanical difficulties and needed to pull over in a safe area near Target. Students are safe, Mr. Blake is on the scene, and a replacement bus is on the way. We apologize for any delays in your students arriving home today.
Practice MCAS Tests
During the week of April 2nd, we will be doing practice tests for all grades. If your child misses a test, your child can actually make up the test at home. Please contact the main office or your child's teachers with any questions.
After School Activities Wednesday, March 7
When there is a half day of school, there are no after school activities scheduled. For March 7th, the Boys and Girls Club has already cancelled after school activities so all students will need to head home on the buses Wednesday after school.
Term 3 Progress Reports
Progress Reports went home for Term on Friday, March 2. Please sign and return these notices to your child's homeroom teacher.
Academic At Risk Notifications
If your child received a D or F in a class Term 2, your child will receive a letter that invites you to meet with school administration about what we can do to best support your child. Please be on the lookout for these letters in your mailbox. Please also know we speak to your child when we hand out these letters. In these discussions we talk about extra help, but often the one thing kids remember is the possibility of summer school and the cost of a class ($200-$250). Please know we talk to the kids about help and not just summer school.
2 Hour Delay February 2
We start at 9:45 Buses will be en route 2 hours later than usual. Breakfast will not be served.
Be safe!
Report Cards for Kids & School
On Tuesday, January 30, reports cards will be sent home with students, Further, the MCAS report card for the school will be sent home as well. The school based information has already been posted on the MCAS version of our website. Please go to SVMS Info, Testing, then MCAS. If you want to copy and paste the link, please use this link: http://sv.leominster.mec.edu/testing-64de2e2d/mcas-160e651a

Winter Carnival Thank You
Thank you to all of the Sky View community, especially our PTO, for making the Winter Carnival another success. 15 years and running. Thanks for your support!
Two Hour Delay - January 23
School will open today two hours later than normal. Students may be dropped off at school no earlier than 9:15.
If your student normally gets to a bus stop at 6:45am, for example, the student should be at the bus stop today at 8:45am.
There will be no breakfast served at school today. Lunches begin serving at 10:45, as usual.
New Bus Times - Bus 27
In an effort to alleviate late arrival in the morning and late drop-offs in the afternoon, the schedule for Bus 27 has been revamped. As of yesterday afternoon, Bus 27 now loads for dismissal during Round 1 of buses, meaning students will be dropped off at their stops as much as 10 minutes earlier than before. Morning pickup times, similarly, are now approximately 10 minutes earlier as of this morning, January 19. While the driver on Bus 27 has been reminding students of the earlier morning pickup times this week, some students did not get the message and missed the bus this morning. Our apologies for any inconvenience and please make a note of the earlier pickup times going forward. The new schedule is listed here on our site (SVMS Info, then click on Buses).
ALICE Student Trainings
This Wednesday and Thursday, January 10 and 11, we will be training your child in ALICE (Alert, Lockdown, Inform, Counter, Evacuate). The training for your child will entail watching a video with school administration on Wednesday and then completing an ALICE lesson with your child's teacher on Thursday. We are asking you to be a part of the training by reviewing a worksheet your child will be completing on Wednesday (your child is instructed to bring this worksheet home). The video your child will watch, the worksheet your child will complete, and the lesson the teachers will follow are all located here on our school website (click SVMS Info, then Emergency Protocols and Procedures). We encourage you to watch and discuss all aspects of the training with your child.
SBIRT Screenings Begin
During the week of January 8, we will begin our SBIRT (Screening, Brief Intervention, Referral to Treatment) screenings with the 8th grade students. All grade 8 students will be screened once during Specials classes before the end of the school year. Earlier this year, grade 8 parents received a letter explaining the SBIRT program and giving you the opportunity to "opt-out" of the screening. Please check under SVMS Info, Learning, Health Education for more information on the SBIRT process, including the screening tool used.
Late Bus Afternoon of January 2
Bus 19 is running 30-45 minutes late for the afternoon of January 2nd. We apologize for the delay.
Late buses morning of January 2
While school began on time today, multiple buses were experiencing mechanical difficulties due to the extreme cold this morning. Some buses were running as much as 40 minutes behind schedule. Any students arriving tardy to school today have been marked as "on time."
20 Minutes Early
For Friday December 21st, school vacation will start 20 minutes earlier for the kids at Sky View. To help with dismissal throughout the district, Sky View kids will start dismissal at 1:55. Thanks for your patience in advance... and Happy Holidays!
Bus Stop Swap
As of Thursday afternoon, 12/21/17, the following bus stops have been swapped from Bus 29 to Bus 27:
Water Street and 5th Street

Water Street and 3rd Street

Water Street and Oak Avenue
Term 2 Progress Reports
Just a "heads up" to families that Term 2 Progress reports for students are heading home on Friday, December 15th.
Change Maker PD for Students
On Tuesday, December 5, Mr. George Grossman will be leading a "Change Maker" professional development opportunity for students. We are going to try this experiment with our Student Leadership Council students. Changemaking is an evolution of our combined Youth Venture and VIEWpoint efforts. One of the founding beliefs is our youth can be the social entrepreneurs to change our communities for the better through the lens of what students are learning in their classes at Sky View. We thank Mr. Grossman who will lead the effort along with Ms. Sweet, Ms. O' Day, Ms. Pothier, Ms. Gould, and Ms. Tomasso throughout the day. Best wishes & good luck!
Lunch "Petition"
Just a heads up that Chartwells, the district vendor for school lunches, was speaking to kids about whole wheat options/alternatives for lunch. If kids were interested in whole wheat pasta for example, they were allowed to sign a petition for the whole wheat alternative.
Cold Snap
Today's cold temperatures led to a burst water pipe over a closet attached to an office today around 10:45. The students and staff did a great job evacuating the building. The Fire Department was on scene quickly and the water was turned off in one small area. The building is back up and running. Thanks for your patience.
Turkey Trot
Please dress warm for the Turkey Trot on Monday. Hats and gloves are suggested... it will be chilly!
Attention 8th Grade Students!
In a continuing effort to focus on the social-emotional health of our students, the SHINE Initiative visited Sky View on November 3 to talk with our 8th graders. Megan Sullivan presented an excellent program on mental health and awareness that focused on eliminating the stigma and encouraging students to reach out for help.

Megan will be back Friday, November 17, after school until 3:15pm to introduce the idea of establishing a Student Wellness Advisory Team (SWAT) here at Sky View. All 8th grade students who are interested are encouraged to attend this presentation and learn how they can be a part of this Team. Guidance Counselor Dan Nugent will be here to follow up with students afterwards.
Friday, November 17
2:30 - 3:15 pm
Sky View Pocket Theater
MCAS Results
Students' MCAS reports were sent home with students on Wednesday, November 8th. If you have a question regarding the report, please go to "SVMS Info" on the school website, then "Testing" to get the latest information on the new MCAS test. You may also contact your child's teacher or the main office for any question.
Foreign Language Update
We will be offer on line Foreign Language to students during the 17-18 school year. There is more information and details under the SVMS Info Tab, then Learning, then Foreign Language. We will not have traditional Spanish as we have had in the past, yet we are thankful that our students will have an opportunity in the immediate future. The process on how we selected students involves a combination of teacher recommendation, MAP scores, and if a student was previously selected to take a Foreign Language.
Halloween
Students & staff can certainly dress up for Halloween. Students will be reminded during school lunches what is expected for the day. In the past we have had no concerns. We thank families for their support.
Parent Teacher Conferences
Sign up for conferences will be done electronically at Sky View. On November 1st, the link for conferences will be on the school website and also emailed to families. Look under SVMS Info, then Events for more details.
MAP Testing
During much of October, we have been conducting MAP testing for English and Math. We use the assessments to help progress monitor our students. Please check out the MAP testing session of our school website under SVMS Info and then Testing.
UNICEF for Halloween- Grade 6
There is a file describing what our 6th grade SS teachers have planned for Halloween. Kids may participate if they wish. Please check out the flyer!
SHINE Initiative - Mental Health Awareness
In a continuing effort to focus on the social-emotional health of our students, the SHINE Initiative will be visiting Sky View on November 3 to talk with our 8th graders. During E and F Blocks that day (Day 4), Megan Sullivan will present an excellent program on mental health and awareness that focuses on eliminating the stigma and encouraging students to reach out for help.

Megan will also introduce the idea of establishing a Student Wellness Advisory Team (SWAT) here at Sky View. Guidance Counselor Dan Nugent and Psychologist Erica Peters will follow up with students afterwards to see who is interested in joining.
Magazine Drive
The PTO is sponsoring our annual magazine drive which kicked off on 10/20 and lasts until 11/2. Your child should bring home materials Friday. Information will be emailed home, is available on the PTO portion of our website (under SVMS Info), and at the following link: https://www.gaschoolstore.com/. Thanks in advance for your support!
Dismissal, Monday, October 16th continued
Students at the following bus stops will be kept at school since streets are closed down:
Bus #32
Lancaster & Graham Lancaster & Cross Lancaster & Pine
Bus #27
Central & Cross
Bus #32
Middle & Walker Cedar & Middle
The bus company will transport these students later in the afternoon. Families may come to the school to pick students up f they wish after 2:30.
Dismissal, Monday, October 16
The "Shelter In Place" order has been lifted. All students will be dismissed from school following our normal procedures. If streets are closed, this will be assessed and communicated to families as soon as possible.
Band
After school band will begin on Thursday, October 19th. Please click on "Clubs" and then "Broadway" for more information.
7th Grade Families & Immunizations
Second notices have been sent to families regarding immunization records. If the record has not been sent to the school, then you received a notice through the mail. If you have any questions, please contact the school nurse at 978-534-7780 x3.
Bus Fees
Soon Sky View will be asked to collect bus fees for students in grades 7 & 8. Students will not receive a "sticker" for payment. The main office will keep a list of students who have paid and communicate with the bus company regarding payment of bus fees. As soon as a notice is approved for families, the school will send out this bus fee notice through email, paper copies, and a phone call.
Progress Reports
Progress reports were printed and handed out to students at the end of the school day on October 2nd. Please sign and return these documents to the school. If you have any questions, please do not hesitate to contact your child's teachers or the main office.
Boys & Girls Club Bus Plans
Moving forward, there will be three buses at Sky View to take students to the Boys & Girls Club. The buses are 19, 22, and 34. Students have been assigned to one of the three buses. Moving forward, students will not be called down early to the lobby and moved to different buses, students will be expected to get on their assigned bus each afternoon.
Anonymous Alerts student training
All students participated in a presentation/training on our Anonymous Alerts system today at Sky View. Not sure what Anonymous Alerts is? Ask your student! (or, check out our Stop Bullying! section under SVMS Info) Students were encouraged to download the free app (with parent permission) so that they have access to our support staff at their fingertips. Students can report bullying, harassment or concerns for a friend with or without revealing their name, and without ever having to step foot in the school office! Parents can too! This is just one more way for students and families to let us know what they need to be successful here at The View.
Club Fair 17-18
At specified times throughout the school day, students will be able to come to our annual Club Fair to sign up for after school activities. The club portion of our school website lists all of the available activities. Information regarding the clubs is being updated so there will be changes throughout the week. Information regarding club activity fees will be sent to families in September. This communication will be separate from the Club Fair flyer.
Boys & Girls Club Bus for Tuesday, September 20
Due to a concern with the bus company, instead of an "extra bus" for the Boys & Girls Club, this afternoon students going to the Boys & Girls Club will be split between 6 different buses that will all take students to the B & G Club.
Box Tops
Similar to many of our elementary schools, Sky View will be doing Box Tops as well this school year. We will also be offering prizes for kids who participate. Go to the PT portion of our school website for more details. The PTO site is under SVMS info.
Open House Information
Please check out our website... go to SVMS Info & then Events to learn more about Open House for the 17-18 school year.
Bus Update, Tuesday, September 5th
To help alleviate overcrowding on Bus #27 & Bus #28, the bus company has arranged for a bus to take some students from both Bus #27 & Bus #28 on a separate bus. This different bus will take students to the Boys & Girls Club and then will take students to their regular bus stops.
Boys & Girls Club
The Boys & Girls Club begins Tuesday, September 5th. Students may ride one of three buses to the Boys & Girls Club.
Hot Spot?
Thank you everyone for their patience in advance. Currently SV has been without the internet since Thursday, August 24. It has been difficult to operate as usual. For today, Tuesday, August 29th, our secretarial staff is working in a different building to help us prepare for the new school year. If you did not receive a team/homeroom notification, please email Mr. Blake, Mr. Nebel, or Ms. Squires. We are working off a hot spot in the office currently. Thanks!
Bus Routes & First Day Information
Please look under "SVMS Info" and then "First Day of School" for much information about Sky View. This includes hours, where to be dropped off, etc. There is also a section for busing where all of the routes for LPS are posted. We will post just the SV routes when all of our technology is working at SV, Thank for your patience in advance!
School Hours
For kids the day is officially 7:45-2:15. Kids go to homeroom at 7:30 and we begin dismissal at 2:20. Anyone who is not in homeroom at 7:45 is late and families will end up with an attendance call if a student does not go to the main office to check in at 7:45.
Team & HR Assignments
Please remember that these will be mailed out this week. Please do not contact the school by phone for team and homeroom assignments. If your assignment is not received by Monday, August 28, please contact the school by phone for a team or homeroom assignment.
New Lunch Prices
Lunch & breakfast prices have increased 25 cents for 2017-2018. Here are the prices:
Student Lunch $3.00 (reduced = $0.40)
Student Breakfast $1.75 (reduced = $0.30)
Applications for for Free/Reduced lunch program can be picked up in the Sky View main office or at the Parent Information Center (PIC) at 24 Church Street.
Team & Homeroom Notifications
Team and homeroom notifications will not reach homes during the week of August 14th. Due to many reasons over the summer, we have been unable to complete all team & homeroom assignments. These assignments will be finalized during the week of August 14th and mailed out the week of August 21st. If time becomes more of a concern, the school will work on an electronic solution to send home this important information.
Summer Reading
A reminder to all Sky View families that your summer reading assignment will be collected during the first week back to school. Information about summer reading can be found on this website under the heading "SVMS Info".
Advanced Learning/LEAP
Advanced learning (LEAP) letters were sent out to incoming 6th grade students on Friday, July 21. Please contact the main office regarding any questions or concerns. 978-534-7780 x1110. For students entering 7th grade & 8th grade, class assignments/recommendations will remain the same as the previous school year. Please contact the school with any questions or concerns.
Foreign Language Classes & Letters
Letters recommending 6th grade students to Foreign Language in 7th grade for the 17-18 school year were mailed out to families Saturday, July 22. Foreign language for students in grades 6-8 may be negatively impacted due to budgetary concerns. A message will come from the school/district in the near future regarding foreign language at the middle school level.
Summer Help & Hours
During the summer days, the best way to get a hold of anyone in the building is through email. There are currently no secretaries working summer hours. There is only one custodian on duty between 6:00-2:00, so he may be hard to find. The best way to contact the school is through email at timothy.blake@leominster.mec.edu. You may also leave a message at 978-534-7780 x1110. Thanks for your patience.
Final Day = 1/2 Day
Just a quick reminder that the final day of school is a half day. Dismissal is at 10:50.
8th Grade BBQ Donations
We are looking for donations of water & flavored water for the BBQ. Donations can be dropped off anytime before Wednesday morning at 10:00. Also, if you could loan out your cooler, filled with ice, for Wednesday morning. that would be great as well. If you want to donate ice or an empty cooler, we will take whatever you can offer. Thanks!
7th Grade Family Assist
We still need up to 7 seventh grade families to volunteer their time to help us out at Sky View on Wednesday, June 21. We need helping setting up and serving food for the 8th grade BBQ. Please contact the office if you can help out. Thanks!
Suspected case of Chicken Pox
This message is to inform you that a member of the Sky View community has been diagnosed with a suspected case of Chickenpox. A letter has been sent out via email and is available on the Sky View website. If you have any concerns, please call the school nurse, Lisa Mueller at 978-534- 7780, ext. 3 or the nurse leader, Cathy Gaudet at 978-534- 7700 ext. 323.
Grade 8 Dance Tickets on Sale Now
The annual grade 8 dance is fast approaching! Tickets are on sale now in the main office for the June 21 event. Tickets are $8 and students must have a permission slip signed in order to purchase. This is considered a graduation event, so current Sky View 8th grade students only, please.
5th Grade Move Up Days
5th Grade students who will be attending Sky View will come check out The View during the week of June 5th. JA & FD will come on up on Tuesday, June 6. NW will come on down Wednesday, June 7. Please ask your 5th Grader what they thought about the tour. We look forward to meeting parents as well in the near future.
Award Winning
Congratulations to Ms. Rita DeOliveira for winning a Linda Schulman Innovation Award for the 17-18 school year. We're looking forward to the innovative project titled Homework Hotline for English Learners.
Chris Herren at The View
On Friday, June 2 Chris Herren will be a guest speakers for just our Grade 8 students. The event is not open to the public. Please contact the school regarding any question you may have about his presentation. You can find out more information at www.theherrenproject.org
Parents or students can reach out to Chris at THP@theherrenproject.org
8th Grade DC Trip Info?
We changed the website around. Look under SVMS Info for the Birthday Cake Icon. Click on the Cake which stands for events and you'll find the DC Trip information there.
Bus #26- Tuesday, May 30
Bus #26 is running late. Students will be coming home, albeit late. Thanks for your patience in advance.
8th Grade Graduation is the 8th Grade Awards Assembly
8th Grade families will begin to receive ticket information on Friday, May 26. Please pay close attention to the documents that will be listed under SVMS Info and Graduation. Look for the graduation cap icon in the menu.
Phones Down
Sorry for the disruption. Phone service is down on Tuesday afternoon around 3:30. It should be back up shortly.
Parent Liaison
While we should have made the announcement long ago, Sky View has a parent liaison. Ms. Susana Lyons has been at Sky View since February and has already made contact with many of our families. Please read her letter of introduction on the front page of our school website. Also, she has a brief questionnaire regarding workshops and trainings for families. If you are interested, please return these if at all possible by Friday , May 19th.
Bus Delays- Wednesday, May 10
There is a pole down near Hamilton Street which is causing a delay for many of our school buses.
Bus Delays- Monday, May 8
There will be delays since buses are combining routes this afternoon. The following buses will be affected:
Bus 31A & Bus 20 will combine routes
Bus 31B & Bus 19 will combine routes
8th Grade Math MCAS- Computer Practice Test?
8th grade Math teachers have reviewed the online tools with the students and feel confident that their kids know how to use all of the tools. We do have two classes who want to try the practice test which we will allow. Otherwise, one less test for the kids.
ELA MCAS is done!
We had excellent attendance for our ELA MCAS which took place before and after April break. We will continue make ups this week, but there are not too many to do. Thanks for your support!
Email Down
Most of the April break our school email has been down. Sorry if we have not been able to respond to any questions you may have. See you Monday morning!
Main Office Coverage
A quick update from the main office. We now have after school coverage until 3:30 each school day. Mr. Doug Vargo will fill in until the end of the school year. Thanks for your patience during this transition.
Report Card Day
Tuesday was third term report card day. Please sign and return your child's report card to his/her homeroom teacher.
21st Century Student Survey
We are conducting a brief student survey regarding what kids like to do after school on Wednesday morning. A copy of the survey has been emailed home and is found at the bottom of this web page. Sorry for the short notice but the timeline was tight. Please contact the main office with any concerns. Thanks in advance for your cooperation!
VIEWpoint Day & Raindrop Rundown
On Friday April 14th, we will have 2 events during our 1/2 day of school. First think is we will complete our annual Rain Drop Run Down. This run/walk up & down Kennedy Way will be first thing in the morning and help raise funds and goods for Ginny's Food Pantry. Second, this will be our final VIEWpoint working day. After school vacation we will announce where and when students will share their VIEWpoint projects.
ALICE Training
All staff members have been ALICE trained at Sky View. Now that we have been trained, we are going to train the students as well in this emergency protocol. Students will be learning about ALICE and not conducting a "live drill". Please look under SVMS Info for the section regarding "Emergency Protocols & procedures". All information we will be sending home and sharing with students is already posted on this portion of the website. We will also be contacting homes by phone and email regarding the training that will take place at the end of the week of March 27th.
MCAS 2.0

MCAS testing will begin in April. There is a section of the website under SVMS Info titles MCAS where we post testing announcements, parent letters, and schedules. We have emailed a schedule home to families and will send a paper copy home with students the week of March 27th.
Main Office after 2:30
Currently we are in the process of hiring a new secretary which means we do not have as much coverage in the main office after 2:30 each day. If we miss you or miss your call, we apologize in advance. Thanks for your patience!
Bus 23 - Lawrence Street Construction
Families living on Lawrence Street, or anyone with a bus stop on Lawrence Street, should be aware that construction detours this afternoon (3-20-17) may prevent these stops from being reached. Bus 23 will get your children as close to their actual stops as possible, but may need to drop students off at the top and the bottom of Lawrence Street. It is unknown at this time if construction detours will continue through the week or not. Thank you for understanding.
Acadia Institute of Oceanography
Congrats to Giomar Arman who was awarded a scholarship toward camp this summer. Gio wants to become a marine bioengineer and attend MIT. The camp will be in June and Gio will get to study marine biology. When you next see Gio, please congratulate him on this accomplishment!
Grade 8 Course Selection

It's an exciting time for our 8th Graders here at Sky View, as the LHS Guidance Department visits on Thursday, March 2, to begin course selections for next year! During an extended homeroom, each grade 8 student will select core classes, based on teacher recommendations, and list their preferences for electives.
Parents: ask your 8th grade student to see his/her Course Selection paperwork Thursday afternoon. These need to be signed and returned to Sky View by Monday, March 6!
Sky View Winter Concert
Thank you to Ms. Marso, Ms. LeMay, students, and families for a successful Winter Concert. We have a video of the concert under SVMS Info and then under Music. Please check it out. The band & chorus sound great!
Academic At-Risk Notifications
During the week of February 13th, SV will be sending home academic at-risk letters to families. For students who are academically at risk, families will receive a letter inviting families in for a meeting with the principal. Families may schedule a morning meeting with the principal if they wish. If a student is already on track to fail a class for the year, the teacher team will send home a second, different letter to establish an "Action Plan" for the student. Families are invited to be a part of the Action Plan. Please click on "SVMS Info" and then click on "Grades" for further information and sample letters.
CTEi Grade 8 Training Program begins
Monday, February 6, is the first day of the new CTEi Grade 8 Training Program. A bus will pick up 16 Sky View students around 8:30 and bring them to the Center for Technical Education Innovation at Leominster High School. These select students will spend an hour and a half learning about the training and getting to know the newly built training stations that they'll use for the 8-week program. For Sky View, the program runs every Monday and Tuesday through April 4. See more under SVMS Info on this site.
Friday, February 3rd
On Friday February 3rd we will have an extended homeroom period. Teachers will check in with students to see if they have any questions or concerns from Thursday. After a check in with students, we will move into our previously scheduled Patriots Day Picture Contest. Each academic team will take a picture before entering into the 1st period class. The winning pic will end up in the Sentinel & Enterprise. Students should wear their red, white, & blue or Patriots gear on Friday.
Term 2 Report Cards
Term 2 Report Cards went home on Tuesday, January 31st. Please sign and return the report card and contact the school with any questions or concerns.
Winter Carnival Volunteers
We are not far away from our largest school wide event of the year. We love having students come volunteer at the Carnival for parts of the day (or the whole day). Please check out the flyer on the website. We are also giving interested kids the same flyer. If the kids say that of they volunteer they are entered into a raffle to throw a pie at the principal, that is true!
Random Selections
Families may hear of different assessments taking place at Sky View. SV has been selected for a test and a survey. Please read a brief description of each. In both cases, not all students are taking a test or a survey. There is information for each event under SVMS Info.
NAEP Testing
About 60 randomly selected 8th graders have been randomly selected to take part in this assessment known as the Nation's Report Card.
Health Survey
About 50 randomly selected 7th & 8th graders have been randomly selected to take part in the Youth Health Survey. The school can provide you with a copy of the survey.
Lost Boys of Sudan
During our 6th grade study of Africa in Social Studies classes, our 6th grade Social Studies staff was able to have a "Lost Boy" present at Sky View. Civil War drove an estimated 20,000 young boys from their families and villages in southern Sudan. Our students got to hear a first hand account of this historical event and learn some of the Lost Boys, weren't boys!
Parent Panel on Immigration
On what could be a new tradition to correspond to our 8th grade reading of "Inside Out and Back Again," we had a parent panel on Thursday, December 22nd to talk about immigrating to the United States. Thanks to all of our Sky View families who agreed to tell their heartfelt stories.
CTEi: New program coming
December 21, at the View, a representative from CTEi spoke to a select group of grade 8 students about a new program that is planned to launch during Term 3 (starting around the end of January). Students who participated were nominated by their Team teachers as those students who were interested and could succeed in the rigorous CTEi environment. Stay tuned for more info as the program takes shape over the next month!
Caring Hall of Fame
Former Sky View student, Kylee McCumber, just made it into the National Caring Hall of Fame. Senators Bob Dole & Tom Daschle made the announcement recently. Check out the details in this article you can copy & paste into your browser:
http://blogs.sentinelandenterprise.com/communityconversations/2016/12/19/kylee-mccumber-honored-for-her-karing-ways/
Congrats Kylee!
Caroling?
If you were at Sky View on Monday the 19th, you may have bumped into some carolers.... it may happen again on Tuesday the 20th!
Dress Warm Please!
It will be "wicked cold" Friday morning. Please make sure your loved one is dressed warm. Coats, gloves, hats, etc.... please wear them all!
8th Grade Student of the Month
Apologies for missing Student of the Month for Grade 8. You are all wonderful role models in our school and your families should be proud. Thursday morning the principal was at his own son's third grade holiday show.... very exciting!
Term 2 Progress Reports
Progress Reports for Term #2 are being sent home with students on Wednesday, December 14th. Please sign and return to your child's homeroom teacher. If you have questions and/or concerns, please contact your child's teacher or the main office.
Student of the Month
Hard to believe, but it's already that time: Our first Student of the Month ceremonies will be held this week! Three times a year we take the time to honor some of our students who have really "stepped-up" and shown true dedication to one (or more!) of our core values: Respect, Responsibility, and Creativity. Ceremonies are held at 8am each day in our cafeteria and each ceremony is followed by breakfast treats for our winners and families.
Wednesday, December 14 - Grade 7
Thursday, December 15 - Grade 8
Friday, December 16 - Grade 6
Snow Day & After School Activities
No school on Monday and no practices, clubs activities, or anything after school on Monday as well. See you all Tuesday!
If your child is in Art class...
Check out what he/she may be creating... when I was there, I did not see one balloon pop. Impressive!
Bus Fees
During the week of December 12th, 7th and 8th grade families who have not yet paid the bus fee will be sent a letter regarding payment. A copy of the letter is on our school website under SVMS Info and then buses. If the fee is not collected by the school, students will not be able to ride the bus after Wednesday, January 4th. Please review the letter and please contact the school with any questions.
8th Grade Family Reminder
Each 8th grade team will be heading to CTEi to check out the offerings at the Center for Technical Education and Innovation. Please check the school calendar for the day your child will leave Sky View for a morning tour of CTEi.
SBIRT screenings continue
We will continue our SBIRT screenings of grade 8 P.E. students on Monday, December 5. All grade 8 students will be screened during their P.E. classes by the end of the school year. Please review the SBIRT details, including the parent letter that went home in September, in our Health section under SVMS Info.
Welcome Back
We are happy to welcome back Ms. LeMay from her maternity leave. We will resume our after school Select Chorus and General Chorus rehearsals the week of December 5th.
Very Thankful
Thank you to the Sky View community who donated a ton of food and over $300 to help restock Ginny's Food Pantry here in Leominster. We will have a Spirit Week in December to help keep Ginny's stocked this holiday season. Thanks for your help!
Sky/Sam Bowl... almost
Sky View is ready for flag football action and will scrimmage on Tuesday night at the Pop Warner Field on Litchfield Street. The Samoset Team is not quite ready and is looking the play the week after Thanksgiving. Sky View will scrimmage tonight and we definitely have enough to scrimmage. See you tonight at the Pop Warner Field.
Thank you!
Thank you to the Sky View Community for raising hundreds of dollars and helping to restock Ginny's Food Pantry. Your generosity is much appreciated. It was the coldest Trot we can remember, but that did not stop hundreds of kids from participating. Check out the Sky View Twitter Feed or look for pictures under SVMS Info, under "Turkey Trot".
Chilly...
It looks like it may a be a cold Turkey Trot on Monday. Please dress warm. Sweatshirts, woolly hats, and any extra layer are recommended for the Trot.
If your child is on 7A or 7B...
We tested some mud bricks today. We rolled, dunked, and saw how much weight they could hold. I wonder next year if we could have a team wide mud brick structure contest....
Basketball Tryouts
We announced to the kids Thursday during lunches that there will be basketball tryouts after the Thanksgiving break. Please go to the "Clubs" section of the website and then search for basketball. All pertinent information and documents are posted there. Students will need a "physical form" in order to try out.
Mechanic Street Construction
There may be delays in the afternoon drop off on areas located close to Mechanic Street as their is paving occurring November 17-18. Your child may be a few minutes late getting home on these two days.
Veterans Day
In honor of Veterans' Day, students from Sky View Middle School created cards thanking veterans for their service. The cards will be handed out, this Friday, to local veterans at Texas Roadhouse. Every Veterans' Day, the restaurant offers a free lunch to veterans in appreciation for their service. Pictured: Stacy O'Day and Sharyn Tomasso, Sky View Middle School teachers with Tiffany Mzeski, Service Manager, Texas Roadhouse
Reporting from the Sky View precinct...
We conducted a mock election in many of our classes on Monday and the results are...
Clinton 50%
Trump 36%
Johnson 11%
Stein 3%
Others 1%
The Wall That Heals
A special thanks to Troop 151 Leominster for giving well over 100 hours of community service at The Wall That Heals. Troop 151 helped families, veterans, and friends locate names on the wall. They also helped organize ceremonies and assist many of our disabled veterans. Ben Stanley & Jake Walls received the Vietnam Veterans Wall Foundation Challenge Coin for all of their hard work over the weekend. Thanks also to Alex Driscoll, Anthony Palmariello, James Frye, Vincent Frye, & Taylor Hanks who are a part of Troop 151 and donated their time at The Wall That Heals.
Save a life?
Is your child in Health class during Cycle 2? If so, ask what he/she learned on Friday. It could quite literally save a life.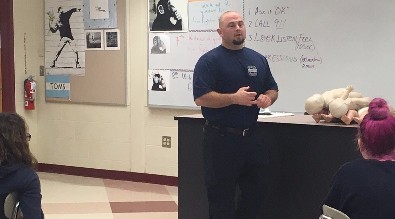 Can your child explain this?
If your child takes Spanish, ask him/her to describe a part of this or all of this. Enjoy!
Parent Teacher Conferences
Please sign up for P/T Conferences through our online, Youcanbook.me, system. You can find a link under SVMS Info and then under Parent-Teacher Conferences. If you do not have an email address or can not access the internet, please contact the school and we will help you out.
MAP Testing
With our wireless upgrade 90% complete, we will begin MAP testing for both English & Math during the week of October 31st. Each team will have 4 sets of Chromebooks and two days to complete testing. We will begin a soft launch of testing on October 31st since we have not tested with Chromebooks before.
Halloween Monday
For those who do not know, we do indeed allow students to dress in costume during the school day for Halloween. We always stress that the costume be "school appropriate," which means:
· No weapons. If the costume comes with weapons, just leave them at home
· No masks on while in school. Have a mask? Certainly put it on quickly to show your friends or teachers before class, but then remove it for the day.
· Make sure you will be comfortable in your costume for a full day of school. For example, if you are going to wear a blow up sumo wrestler suit, you won't be able to sit at your desk and, therefore, not school appropriate.
Lastly: Yes, the rumors are true. Gru will be back for Halloween and will be looking for Minions! Students dressed as Minions may be in line for special awards, so tell those "I'm not sure what I'll be" kids to be a minion!

November = Novel Writing Month
National Novel Writing Month (NaNoWriMo) is a fun, seat-of-your-pants approach to creative writing. The challenge: draft an entire novel during the month of November. Participants begin writing November 1 and must finish by 11:59 PM on November 30. Anyone is welcome to join Ms. Joly (8C ELA) to write this November. Sign up with ywp.nanowrimo.org to create an account. Select "Join your classroom" and enter in the code XYXNVHJY. Then get ready to write all of November!
Bus #24 10/27
Bus #24 left Sky View 20 minutes late on Thursday. Sorry for the inconvenience.
If you have a student taking Spanish class...
He/She might be doing more than learning to speak Spanish. Please ask what is happening in class!
Welcome Ms. Akillian
Ms. Gayna Akillian is the maternity leave substitute teacher for Ms. LeMay. If you wish to contact her, please call the school or you can reach her through email at gayna.akillian@leominster.mec.edu.
If you have a 6th grader...
If your child attends a workshop class with his/her Social Studies teacher, ask about Trick or Treat for UNICEF on Halloween. Students have been working on the question "Is Clean Water a Human Right?" Part of the research has been on UNICEF and the impact this charity has worldwide. Ask your 6th grader about it today!
SBIRT Screenings continue
We will continue our SBIRT screenings of grade 8 P.E. students on Tuesday, October 25. All grade 8 students will be screened during their P.E. classes by the end of the school year. Please visit the SBIRT information, including the parent letter that went home last month, in our Health section under SVMS Info.
XC Practice Cancelled 10/21 & 10/25
Coach Harris can not hold practice on Friday or Monday. We still have our scheduled meet on Wednesday, 10/27.
PTO Sponsored Magazine Drive
The annual magazine drive kicks off Friday, October 21st. This year you can get more than magazines through the magazine drive. Please check it out.
Staff ALICE Training
On Wednesday, October 19th, the SV Staff will be conducting ALICE training with the Leominster Police Department after school. There should be no students after school for extra help on Wednesday. If you do come to the school for any reason after school, please do not be alarmed by the police presence. Thanks for your patience in advance.
Field Hockey Anyone?
The Leominster High School Field Hockey program would like to invite you to join them Wednesday night as they play rival Fitchburg HS on the turf at Doyle Field. Varsity game is at 7:00 pm and JV game starts at 5:30. The coaches and players would love to show you what field hockey is all about! We look forward to seeing you all there! If you have questions, contact Lee Beaulac at lee.beaulac@leominster.mec.edu.
Go Blue Devils!
Welcome Back!
Welcome back to Ms. Perry who was very busy on maternity leave. When 7B families ask their child what happened in school today, hopefully he/she will note that Ms. Perry came back instead of saying "Nothing". "Nothing" seems to be what my own children say everyday. Hopefully you get more details!
PARCC & MCAS Student Results
We received student results this week and have finished unpacking the results. Student results will be sent home on Friday. Please ask your child for the report.
Bus #24, October 13, Afternoon Run
Just letting you know Bus #24 left about 5 minutes late this afternoon. Sorry for the inconvenience.
Wifi Construction Continues
Thursday will be a regular day at The View, On Friday, there will be some disruptions in our network which will affect different areas of the building throughout the day.
Updated School Network
Beginning Tuesday and lasting throughout the week, we will be receiving a much needed wireless upgrade at Sky View. Please know this means that there will be no network throughout much of the week. If you try to text your child and they don't text you back, I'm sure your child is fine, there is just no Wi-Fi.
.
School Pictures
School pictures should be coming home Thursday, if not, then when students get back to school on Tuesday. There will be picture retakes in case your child was absent or if you are not thrilled with your child's picture. Picture retakes will be October 26th.
New Morning Bus Times
The morning buses now have adjusted pick up times. Please see the new schedule in the Buses block under SVMS Info. Afternoon drop off times remain unchanged.
Discussion Wednesday about "clowns"
At lunches today, Mr. Nebel spoke to all students about the recent "scary clown" stories in the news. Students have been discussing these stories and questioning their teachers. The overall message to students is that these stories have mostly been proven false.
Unfortunately, many social media accounts have been created to follow these stories, most of which are making light of the reports. These sites allow users to post comments and there have been instances of Leominster students posting inappropriate and insensitive messages, such as asking the "clowns" to visit our schools. Students were told that they should not be involved in posting such messages.
Social media sites can be valuable and powerful communication tools, but they also can cause panic and anxiety when misinformation is shared/posted. Therefore, we ask for your continued support when rumors occur. We are asking you as parents/guardians to talk to your children about social media and how they should handle concerning posts or information that causes them anxiety.
Please feel free to contact your school administrators if you have any questions or concerns. Student safety is our top priority and we value your continued support in this effort.
All City Musical Fundraiser
Our All City Musical Group is preparing for the big show. If you would like to participate in their calendar fundraiser, check out the Clubs section of our website and then click on All-City Musical for the raffle. The same raffle information is also available through our school calendar. Thanks in advance for supporting our great kids!
After School Chorus Cancelled
For the rest of the month we are cancelling after school chorus, both Select Chorus and General Chorus. Baby time is so for Ms. LeMay. We are actively looking for her maternity leave. Thanks for your patience in advance.
Progress Report Day
Students should be bringing home a progress report today. Each team will have something for students to sign in to ensure you have seen their progress report. Please ask your child for it when he/she comes home today.
Morning Buses
Some buses may be a few minutes later than normal beginning 9/27. We have been working with First Student so the buses do not come too early. Besides Bus #31A which does two runs, we are looking for buses to arrive at Sky View between 7:20-7:30.
SBIRT Screenings begin
This Tuesday, September 27, the first round of our SBIRT screenings will begin. If you have an 8th grader currently taking P.E., he/she may be in the first group (all 8th graders will be screened during P.E. classes by the end of the school year). Please see the SBIRT information in our Health section under SVMS Info.
You have SV gear yet?
If not, get some! Please make checks payable to Sky View Middle School. Proceeds to support the Student Council & the SV Basketball teams.
Candles?
The Yankee Candle Fundraiser has begun. Please check out the sebsite for ordering information. Paper copies have been sent home as well.
Select Chorus Cancelled Friday 9/23
Sorry! Ms. LeMay is not in today & Mr. Blake, nor Mr. Nebel, should lead Select Chorus.
Lots of great VIEWpoint work today!
We have kids planning on building apps, taking apart small engines, dancing, creating murals, public service announcements, awareness of their passionate causes, videos, and many more ideas! Great first day!
Bus #27 9/21
Bus #27 arrived late and left The View 10 minutes late on Wednesday. Sorry for the delay!
No X-C Meet Tuesday (or Wednesday)
Many kids mentioned there may be a meet today. The meet will be on 9/28.
Half Day Wednesday
We dismiss at 10:50 on half days. If you are picking up your child, please be at The View at 11:00.
X-C Practice is on
It may be rainy but X-C practice is still on for Monday afternoon, September 19th.
Hunger Walk = Success!
Thanks to the Sky View community for supporting our Hunger Walk to fight Hunger in our Community. Kylee's Kare Kitz continues to flourish here at The View. Your support truly has a positive impact in our community. Click Youth Venture for more pics!
Be on time...
The hill will be closed Friday morning during our Hunger Walk (8:00-9:30) so please be on time or you will be stuck!
Email Messages
Please keep checking your email as we have been sending home messages. Soon you will receive Open House information. Looking forward to see you on 9/22 or 9/29, depending on which grade your child is in.
Anonymous Alerts
We met with all students today regarding bullying and harassment. If you or your child has an electronic device, we even gave them an app to download. Go to SVMS Info on our website and then go to Stop Bullying to learn more. Please ask your child what they learned during the day on Tuesday regarding Anonymous Alerts.
Webmaster
We are looking for a veteran Youth Venture student to help us maintain the Youth Venture portion of our school website. If interested, see Mr. Blake.
Picture Day is 9/19
Homeroom teachers will be sending home forms this week. You may have already received an email from Lifetouch as well.
Friday Morning, September 9th
Thank you for your cooperation with Bus #32 this morning which was quite late. We were in communication with the bus company as well regarding the concern. Thanks again to parents who brought their child to school since the bus was late.
September 11th Observed at SVMS
Please check out a new block on our front page that describes how we observe September 11th at Sky View and the community service project we undertake during the month of September.
No School Monday, September 5th
Remember to set at least one alarm for Tuesday morning. See you back at The View Tuesday!
Overhead disruption?
Throughout the week classes have been "disrupted" when overhead projectors have been installed in classrooms. Students have had classes in common areas and our outside classroom. That's a win-win! Installation is just about complete.
Fire Drill
It is customary during the first three days of school to have a fire drill. We had ours today. It was just a drill and the kids behaved well.
Smooth Sailing
On Day #2 all buses were on time and all of students moved through lunch lines quickly. Kudos to grade 6, they did so well we had time for trivia at the end of lunch.
1st Day Assembly
We will be meeting with all students during the first day to introduce members of the main office and support staff. At this time we will review expectations for students at SVMS. See if your child can remember many, or all of the names!
For some first day reminders, please check out the "First Day" section under SVMS Info. We also have bus routes posted under "Buses" on the SVMS Info tab.
Links for Families

Staff Links

Community Links